When it is not possible to carry out consumer studies in a tasting room, the alternative is to conduct them at the consumer's home, which we call the Home Test. With clear instructions given to the participant, the tasting session is replicated at home. Pause between products, control of the tasting order, …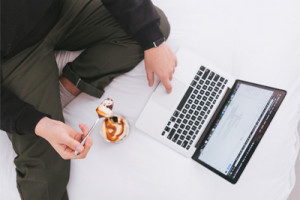 The process to carry out these studies is as follows:
The products to be tasted are prepared in our facilities in "baskets/ bags" that include the questionnaires and the products to be evaluated.
The basket includes the evaluation questionnaires and detailed instructions on how to carry out the tasting. When the basket is delivered, the participant is given all the necessary explanations for the proper development of the tasting.
The products are received unmarked and labeled with codes.
Once the questionnaires have been completed, the participants themselves pass the answers to our online platform and we receive the data.
Consumers come to our facilities to pick up the products or the delivery can be done with the support of courier companies.
Products suitable for tasting
Most products are suitable for this type of tasting: cookies, pastries, dried fruits, sauces, ready meals, refrigerated sliced products, preserves, broths, beverages, … In each case, we always think of the ideal solution for the packaging/repackaging of the products to be delivered. In case of refrigerated products, the baskets are delivered with cold accumulators.
This type of study is also recommended for the study of DPH products (drugstore, perfumery and hygiene), using adapted methodologies and taking into account the specific use of each of them (household cleaning products, cosmetics, shampoos, …). The products can be evaluated with the packaging that we would find in the store or the brand name can be masked so that it does not influence the answers.
We invite you to contact us so that we can explain in more depth how we conduct this type of study.